Iraq is a place where discoveries are still being made; whether it is reaching summits of mountains for the first time, or re-discovering canyons long-forgotten, or even learning about history that was right in front of you the entire time (the 50,000 year old cave right near Sulaymaniyah). Well…
Today I received a very special video from the Destey Lwtka Crew (Peaks Mountaineering Crew)
Hyena Cave
is a known "hole" in the ground, and very few people have explored it. Our team decided to use their mountaineering skills and find out just how far it goes.
I had a chance to catch up with Kamaran H. Rasul just after they returned from their first trip. He described the sprawling network, and his surprise that something so big could be right under his feet. He explained that they followed the best directions, but did not expect to learn that there was more… In the process of climbing through the chambers, they were able to connect to a new exit, and entire new chambers. For a team that is reaching new peaks, this was a new low – but, bad puns aside, their journey into this known "hole" reveals just how much there is to discover in this country.
And, this is just a teaser 😉
I will have a chance to interview Aso Golmohamed, the photographer for the images below, this week and report on the findings. Please feel free to send a message and let me know if you have any questions you would like to ask, and enjoy a little preview!

FOR ANY EXPERIENCED CAVERS:
We are seeking assistance with teaching the basics about exploring caves. Please reach out to [email protected] if you would like to help organize an online class to help make this possible!
Help us with our Climbing School so the people of Iraqui Kurdistan can continue to explore!
About Hyena Cave
After publishing this article, Hashim Aljaz reached out with information about the original discovery of the cave, and even included a map! The official announcement was made by the Iraq Ministry of Tourism, available at this link, and we learn that the cave was officially discovered in 2007. The full article is reproduced below using Google Translate.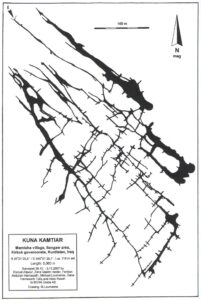 Translation of the article:
Three weeks ago, the German archaeological mission, in cooperation with the Ministry of Tourism in the Kurdistan Regional Government, found 9 caves in the borders of the city of Sulaymaniyah.

On November 5, in a press conference held by Michel and Aku Ra S, a member of the mission and a member of the German Caves Organization, they confirmed that the mission had found several caves during its archaeological mission:

Hazar Mird Caves in the Branan Plain, with 11 entrances.

Sahara cave in the Zabzan River area, 1050 meters long.

Kajkar Cave in the Bireh Makron Mountains in the Sousa region.

Sidr Cave near Berkelo, measuring 60 meters.

Bir Babiker Cave in Malume, 26 meters long.

The Cave of Kun Shamshem in Darbandikhan, with an area of ​​70 square meters.

Kuhn Ba cave in the Gulan Mountains in Darbandikhan, 630 meters long.
Tarshawke cave in Jamerbiz in the Ashdach Mountains in the Sankow area and its area of ​​107 meters.
Kuhun Kummara Cave near Salteda in the Sankaw area, with an area of ​​4030 meters

The members of the mission said that as a result, we have confirmed that the largest cave in Iraq until now is Kumara Cave, which has an area of ​​4,030 square meters, as it was previously known as the largest cave in Iraq, a cave near the city of Najaf, which has an area of ​​2000 square meters.
In the aforementioned press conference, both Michel and Aku RAH revealed that "these caves are being found for the first time in a scientific and academic way in Kurdistan, and we hope that their details will be published on media websites, and from here we express our gratitude to all who supported us in this and supported us for our mission. .

It is worth mentioning that Mr. Aku Rachsh is a member of the German Archaeological Organization, and he is a Kurd, from the city of Sulaymaniyah, and has resided in Germany for 15 years. For the sake of serving my people and my country, because the tourist areas in any country or any homeland should be used for tourism, and there are many tourists from all over the world who visit the areas where the caves are located, and this serves the country's tourism status.
---