In an unprecedented time when the entire world economy has ground to a halt due to the novel Corona Virus, a small group of mountaineers is busy making history in Iraq. Together, on January 24, 2020 this year we achieved the incredible accomplishment of establishing the First Climbing School in Iraq in history, the Hawraz Climbing School. However, we still faced the problem of teaching practical skills without a conveniently accessible location. The solution came together during the quarantine thanks to a donation collected by Jay Stearley from the parent non-profit N2N Unlimited and helped start the construction of the first climbing wall in the city of Sulaymaniyah.
Last week on June 19th, 2020, our climbing wall reached its final height of 12 meters.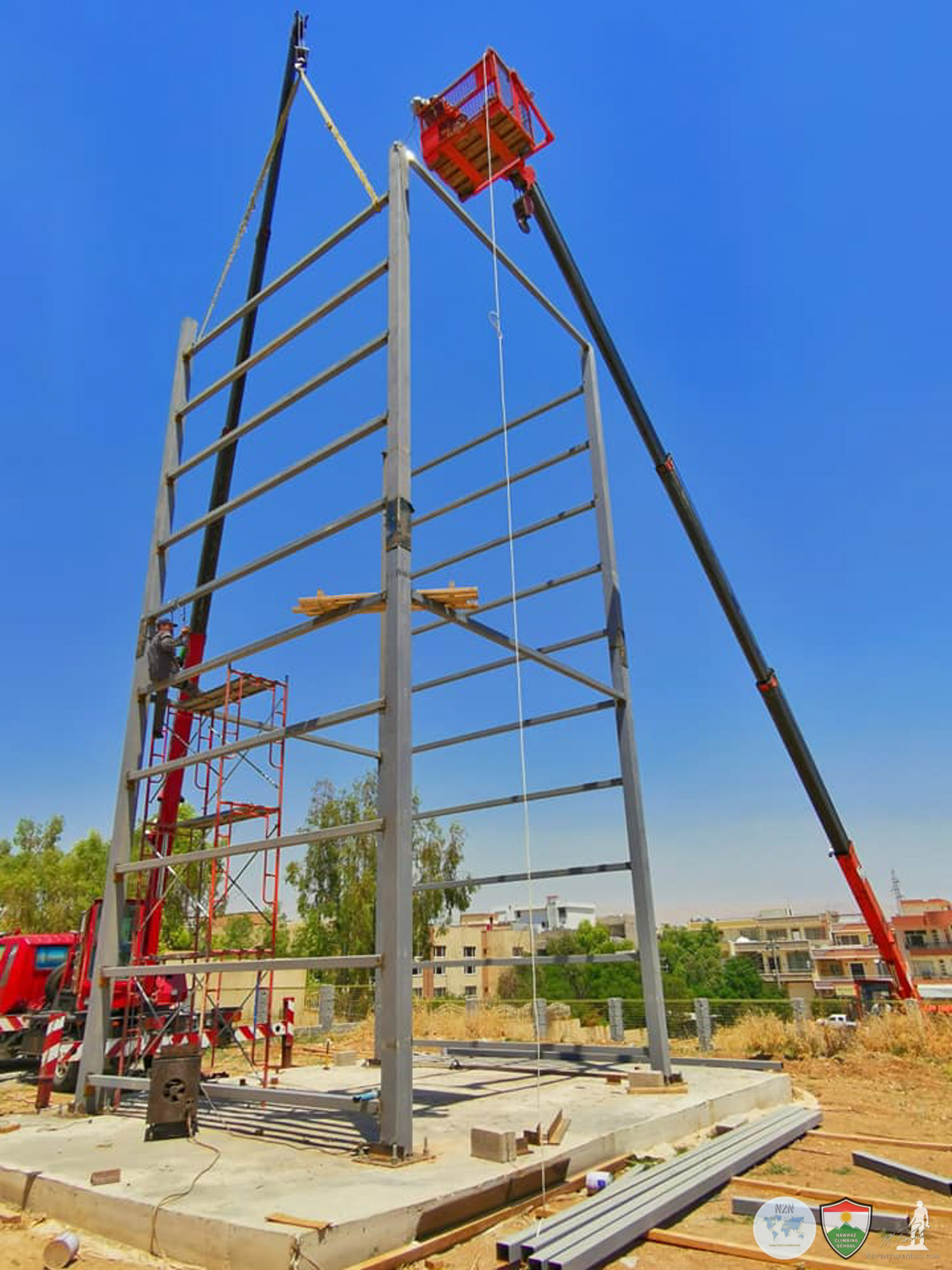 Too Many Risks
With gear from sponsors and donors delivered, classrooms to teach in, and experienced instructors, our challenge was access to a climbing wall that students could practice on. The closest climbing spot at the Hazar Merd Cave may be just a short 25 minute drive from the school, but there is no public transportation available for students. In addition, it would be too great a risk to ferry gear to this location every week because it is practically impossible to replace. The equipment that I delivered there this past year came from sponsors and donors from across the world, and had to be brought personally because of economic sanctions, an unreliable post system, and other logistical hazards.
The most dangerous problem, however, is lack of access in the event of an emergency. In September of 2019, the "Father of Iraq Climbing" Hawraz Raza for whom the school is named, suffered a tragic accident when he fell at this location. Hawraz was unable to timely reach the hospital as his climbing partner Siamand Ahmad raced to the hospital over wild terrain in an off-roading vehicle. And, while it cannot be said whether arriving any sooner would have made a difference, the remoteness of this location poses too great a risk for novice students. The only solution was to construct the first climbing wall in Sulaymaniyah, and set the standard for climbing instruction in the country.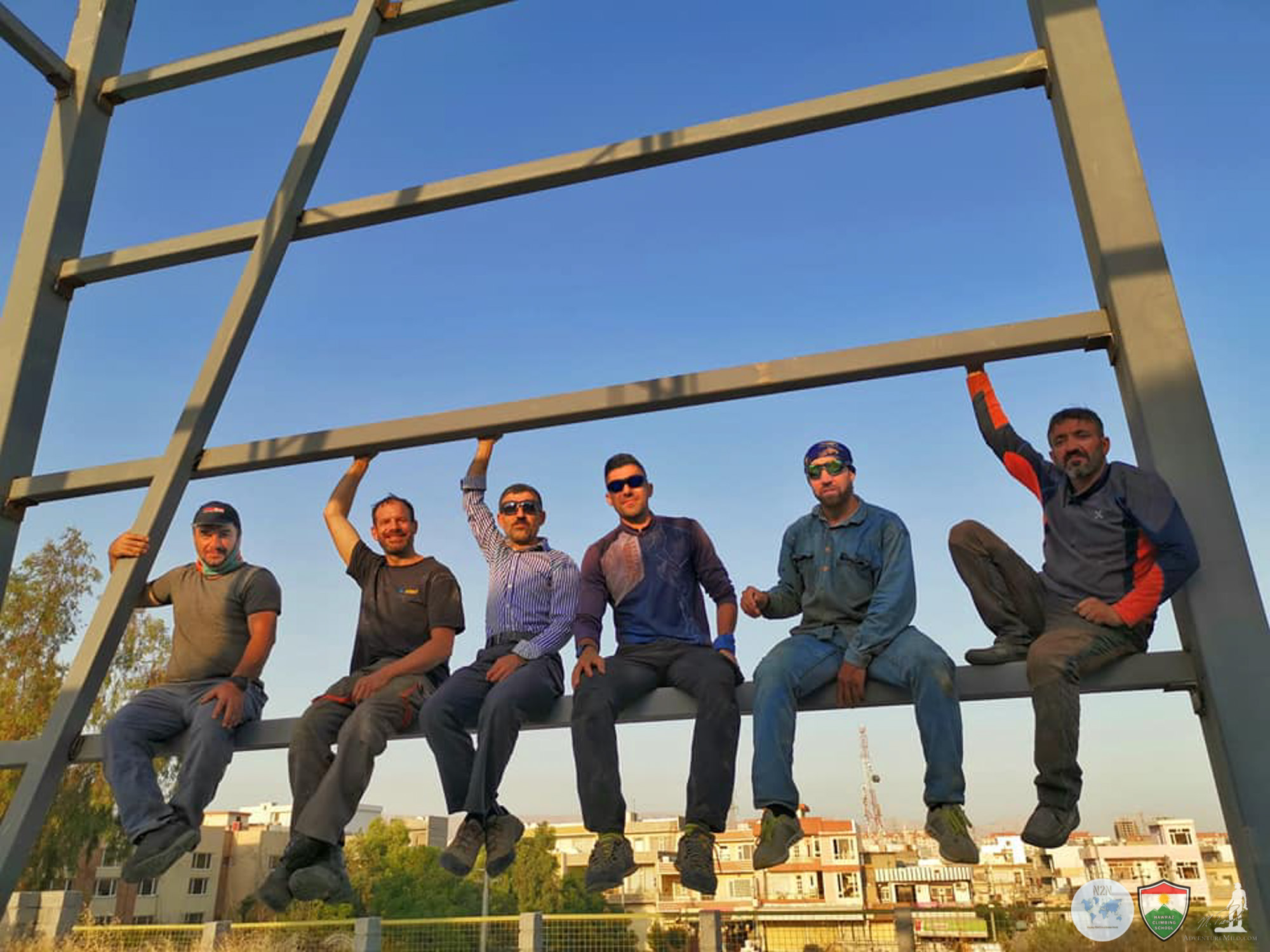 Pandemic Quarantine
Just as we were getting started, the universe threw another curve ball; the novel Corona Virus. We had just finished our first class and suddenly every country in the world was issuing its own version of "Shelter in Place" orders. Racing against time, our team in Iraq broke ground, poured a foundation, and started the construction of a frame. However, we would all be forced inside for over a month, waiting patiently for the first opportunity to resume. This opportunity would come when Iraq relaxed its quarantine on May 5, 2020, and our team got to work instantly. Right away, we were able to start welding the metal frame and add another 2 meters to the wall with lucky finds of much sturdier metal beams at the metal yard.
Just weeks later Iraq would be hit with a second wave of the virus that crippled the country, but this would not stop us. Certain businesses and individuals were permitted to continue operations, including construction, and we were fortunate that our team fit into that category. Right away, and even as I write this article, our team is continuing the construction at record speed, and recently reached a monumental achievement – 12 meters. This accomplishment comes with the aid of an international team that includes multiple professional metalworkers, climbers, teachers, and our mountaineers; Kamaran H. Rasul, Siamand Ahmad, Nasr Omer, Andreas Swissry, Aso Golmohamad, Hawzhin Salih, Abbas Saed, Shnyar Kamal, Renas Ghafur, and many other helping hands.
The level of passion and commitment from these individuals cannot be understated. They continue in the face of never-before seen obstacles with scarce access to resources in a country that is effectively an economic island. Through sheer will and tenacity, we are 12 meters closer to the ultimate dream of the First Climbing School in Iraq with the First Climbing Wall in Sulaymaniyah on its grounds. This effort is possible only through donations that have come from all over the world, and we would like to encourage you to make a donation so that we can continue.