Climbing Iraq's mountains only started around the year 2000, and that was just a handful of people. It wasn't until eight years later that a climbing community started to form, but that just sparked a fire which exploded when Social Media hit the scene. Going from around 100 people climbing in total, to over 2,000 people per month in a span of four years showed the passion that awoke in this culture. Our goal was to start the first ever climbing education program, and we are deeply honored to make the following announcement: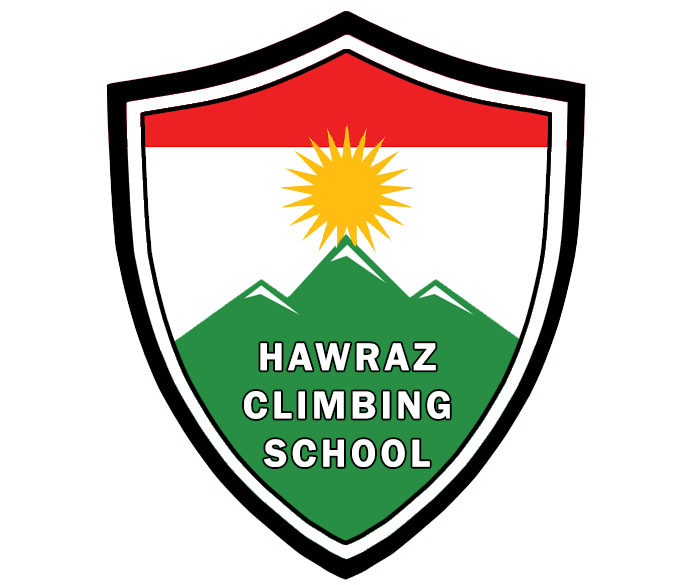 On January 24th, 2020 we opened the doors of the First Climbing School in Iraq in history, the Hawraz Climbing School
This is a historic moment in Iraq and a reflection of the change in culture towards the outdoors in its people. Demand swelled until groups of climbers across the region of Kurdistan competed in taking the sport of mountain climbing ever further. The group Destey Lutka, founded by the "Father of Iraq Climbing" Hawraz Raza, recognized that the sport required a foundation which started at the most basic level. Thus, they set out to establish the first ever outdoor education and climbing program that would teach anyone starting at the most fundamental knowledge of the outdoors. And, on this day, four climbing instructors welcomed a crowd over capacity for this ceremonious occasion and taught climbing for the first time in Iraq in history.
The first four climbing instructors in Iraq are:
Siamand Ahmad, Aso Golmohamad, Kamaran H. Rasul,
and the first female instructor Hawzhin Muhammed Salih.
Siamand Ahmad is the leader of the Volunteer Mountain Rescue Team and is recognized as the strongest rock climber in Iraq. Hawraz's partner for many years, Siamand similarly devoted his life to climbing and is regularly consulted by TV and press on mountains in Kurdistan.
Aso Golmohamad is a member of the Volunteer Mountain Rescue Team and an influential public figure for climbing in Iraq. Professionally, he has become invaluable for international companies that operate in the mountains, setting ropes and guiding teams to remote areas. With one of the only professional climbing jobs in the country, he has appeared on TV commercials and interviews, and is recognized as one of the authorities on climbing.
Kamaran H. Rasul is a member of the Volunteer Mountain Rescue Team, administrator for the non-profit N2N that works with refugees and the community, and a founder of the school. In addition to being an accomplished mountain climber, Kamaran is an expert organizer and facilitator. As one of the most active members of Destey Lutka, Kamaran regularly leads groups mountain climbing and rock climbing.
Hawzhin Muhammed Salih is the first female climbing instructor in Iraq and the first Midde Eastern Woman to climb Lenin Peak (7,134 m). She regularly climbs with groups of children, inspiring the next generation of climbers and demonstrating by example that the outdoors does not discriminate against your weight, gender, ethnicity, etc. Her passion for climbing is unmistakable, and her influence is evident in the fact that half the class was attended by women.
This first class was modeled as a normal class with the exception of hot food that was provided halfway through. Each instructor presented for one hour with the help of a projector as well as real equipment, and students were given a hand-out to take home for each segment. In order to spread awareness of this outdoor and climbing education program, an invitation has been sent to all hiking groups in Iraq to attend a free session. As these classes are being completed, our instructors are gaining experience and organizing a full first semester based on how much students currently demonstrate competence in. Classes are scheduled every other week, with one additional movie night per month that is open and free for all to attend. Films that will be screened are mountain and outdoor films, with the help of translators for the audience.
Although this first class was attended by 69 students, a cap has been placed on each class at 24 students max. We have had four classes in total now and are proud to report full attendance and an average 50/50 male/female ratio. We have also partnered with the first climbing store in Sulaymaniyah Kazh Store so that equipment can be purchased during classes for anyone traveling a long distance to attend.
COVID-19 / CORONA VIRUS UPDATE:
We are still teaching!
WE ARE STILL TEACHING! Presently, there is a quarantine on the citizens of Iraq that has forced schools to close. However, we have already begun to organize online video lectures with international instructors as well as our instructors in Iraq. This is an incredible opportunity to bring in voices from around the world that now have time to contribute to the first outdoor education and climbing program in Iraq. If you would like to help, please do not hesitate to reach out at [email protected] with the subject: Volunteer Video Lesson! Thank you!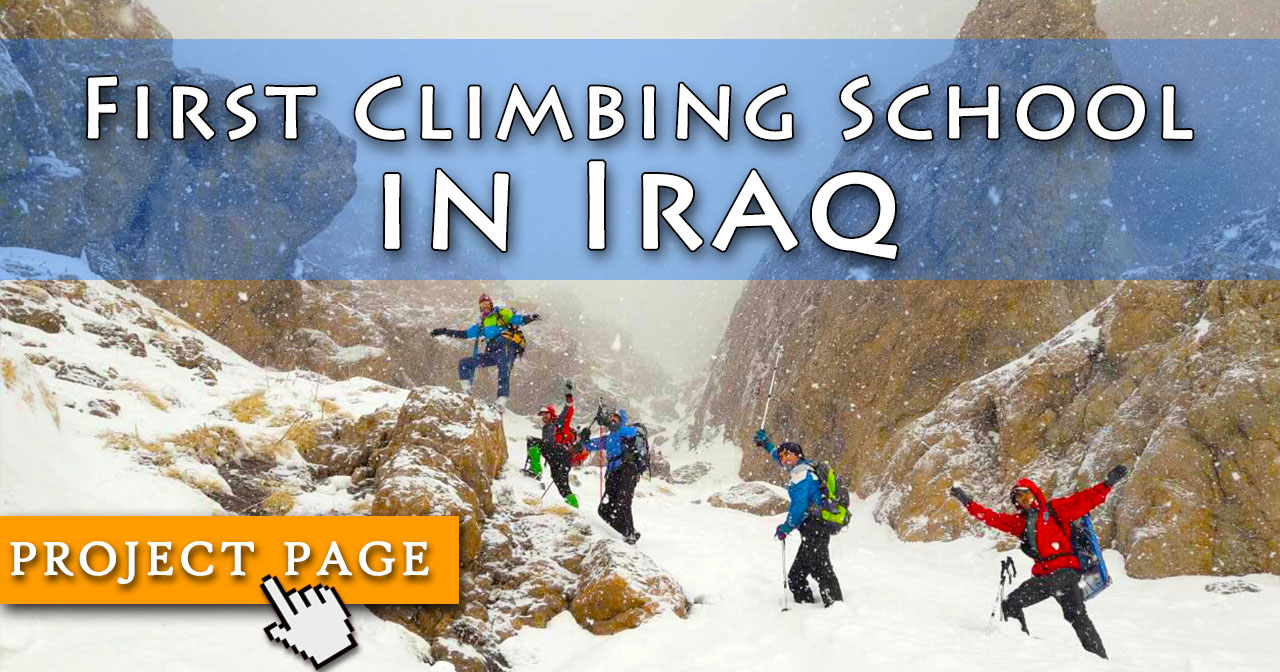 At this time this is a volunteer program and all funding has come from donations, including all of the equipment that was brought into Iraq. All four instructors are volunteering their time to prepare and conduct classes, and we would ask that you consider making a tax-deductible donation, part of which will go directly into the construction of a 10 meter climbing wall on the school grounds.
Thank you, we are honored to share this news.
The school was established in the memory of Hawraz Raza, the "Father of Iraq Climbing"
---