CHANGING HISTORY: We simply cannot express the historic impact this school will have on all of the people in Iraq. For the first time in history, anyone in the country will have a resource to learn about climbing and the outdoors. This creates options for careers such as guides and athletes, opens the door for children to climb internationally, helps educate the entire population to become responsible about the environment, and helps create business by becoming stewards to their beautiful natural resources. Watch the videos below and please consider making a donation to be a part and change history.
Shoot us a message at [email protected]
Helmets, Camelots, GRIGRIs, holds, and… Check out all the gear that has been donated so far to our project to establish the First Climbing School in Iraq in the country's history! The global climbing community is building this school one piece of gear at a time. This gear has come all around the world, including countries in Asia, Euorpe, and North America. It has been so incredibly inspiring to have to translate messages from so many international climbers. The best part… this isn't all the gear either! There's more on the way, and this is just the gear that has arrived already.
You can be a part of this historic moment too. The people that have donated are just regular climbers who want to share the stoke. Some have visited Iraq in the past and wanted to be a part of something that benefits the beautiful country, and some just want to see others learn to climb. We have so many messages of support and appreciate everyone sharing the posts, videos, and talking to their gyms and local stores. If you want to help – here's the best thing you can do right now; talk to your gym, or drop by your store and tell them about our project. Everyone that is part of this project will have their name on a plaque at the school. The amount of gratitude for your help is immeasurable, and you will find out when you visit one day and discover an entire country climbing just like you.
Find out what other gear we need on our Project Page!
Here's what we have so far:
| | | | |
| --- | --- | --- | --- |
| Asia | 5x Helmets | Europe | 4x Quickdraws |
| North America | 1x Helmet | Europe | 6x Carabiners |
| North America | 3x Belay Device | Europe | Figure 8 Descender |
| North America | 2x GriGri | Europe | 3x Climbing Shoes |
| North America | 8x Carabiners | Europe | 4x Sling |
| North America | 3x Camelots | Europe | 1x Chalk Bag |
| North America | 13x Stoppers | Europe | 1x Harness |
| North America | Box full of Climbing Holds | Europe | various lengths of Paracord |
| North America | 70m 9.5mm Non-Dry Rope | Europe | 9.5mm 70m Rope |
| North America | 1x Harness | | |


Your contribution matters, our primary goal right now is to construct the climbing wall using materials locally sourced in Iraq. We still need gear, but what's better than getting started using the gear that's already arrived!? Every single dollar helps, even $5 will buy cement, wood, screws, you name it to help us get started with building the wall. Please consider making a donation – we will be commemorating all of the donors with a permanent plaque that will hang at the school.
Reach us at [email protected] Thank you!
---
Where is the wall going to go?
Check out this 360/VR video to "look around" at our community center!
And here are interviews with the Women Climbers of Iraq
and what climbing means to them
---
Please visit the project page
and consider making a donation.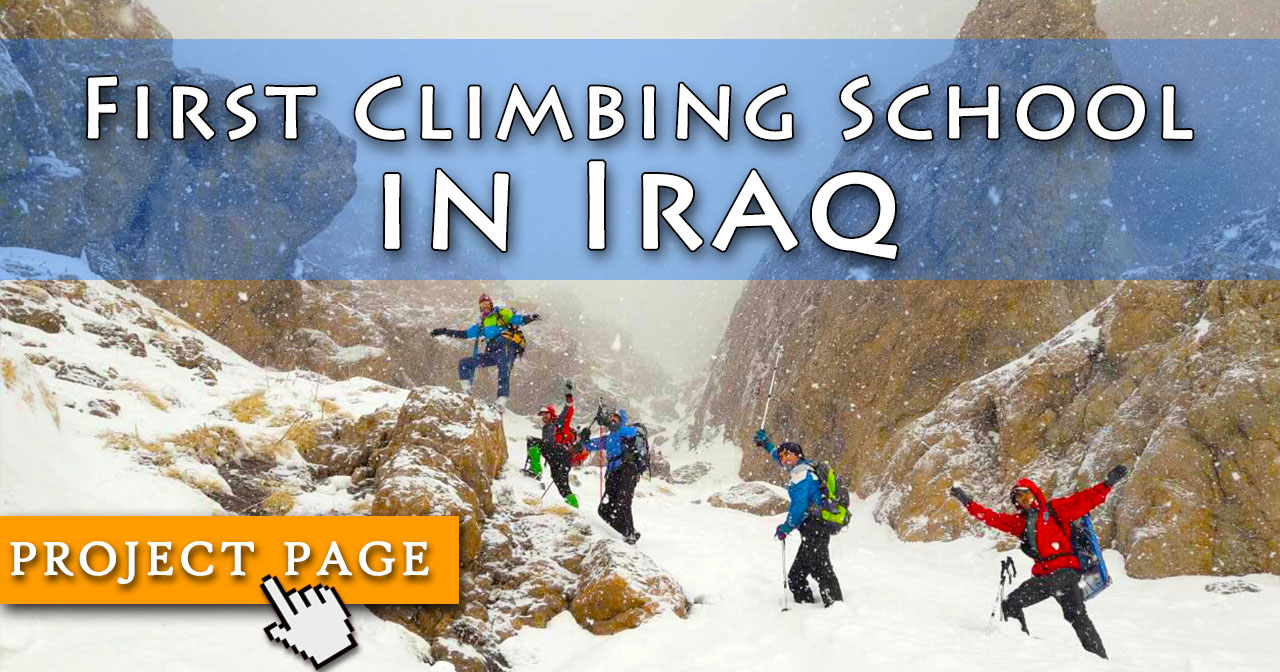 ---