On September 7, 2019 Kurdish climber Hawraz Raza fell from a rock wall in a tragic accident. Several hours later he was pronounced dead at the Sulaymaniyah Hospital in Iraq surrounded by friends and climbing partners. News of his accident quickly spread with coverage on televised news and climbers and non-climbers alike across the country changed their profile images on social media to his photograph in a sign of mourning and respect.


"Hawraz Raza"
Awat Hama Radha Ahmed
January 01, 1983 – July 07, 2019
Outside of Iraq, it is unlikely that anyone knows of the monumental impact that Hawraz Raza had on climbing in his country. By all measures, he can be considered one of the fathers of climbing and mountaineering in Iraq, from a time when the sport did not exist in his culture. Hawraz started climbing when practically no one else considered the mountains as a recreational destination. Discovering a passion that immediately became an obsession, he wholly dedicated himself to the mountains and shared this with others; he climbed at literally every opportunity and invited along all who showed interest. In his 18 years of climbing, he introduced the sport to countless men, women, and children; always focusing on responsibility and safety above all else. In fact, there was not even a single instance of anyone getting hurt when they went rock climbing with Hawraz. He personally witnessed the accelerating rise of interest in the sport and recognized the need for a place where climbers could learn to practice the sport safely and responsibly. It was his dream to set up a school to teach people to minimize risk, prevent accidents, and learn how to respond to emergencies.
Against all odds, Hawraz persisted from the very beginning when there was zero resources to climbers in his country. His first time on May 28, 2001, he produced a backpack out of a rice sack by sewing on shoulder straps and climbed using soft rubber shoes with completely flat bottoms. The experience changed his life and, on the same day, he founded the climbing group Destey Lutka that has since become one of the leaders in the country in establishing the standard for climbing and mountaineering. Talented and similarly impassioned climbers rapidly joined, and together they began to overcome obstacles that frustrated them before. With no gear distributors in the country, Hawraz' partner Siamand Ahmad was able to produce climbing equipment using equipment in his garage such as carabiners, bolts and anchors, pulleys and protection, and even mountaineering axes. With no learning resources in their language, the team learned by emulating what they saw on internet videos until Hawraz' friend Kamaran Rasul joined and help translate. Ultimately, team members Karox Ali and Ari Othman would translate the first climbing instructional book in their country.
In line with Hawraz' vision, Destey Lutka carved out each step towards a future for climbing in Iraq. Hawraz became a familiar face on television as he and his team accomplished historic achievements such as setting the longest protected route in the country. He was recognized by the climbing community as a credible, honest, and principled leader with a humble and reserved attitude. His passion inspired so many, and his passing left the country in a state of sorrow and mourning.
Hawraz' Legacy
Hawraz spent his entire adult life in the pursuit of one singular goal; climbing. It was his obsession and he spent every available moment doing it, and doing it responsibly. To him, climbing is what made life worth living and his only dream was to make climbing possible in his country. For this reason, every action he made was calculated and, as others began to admire him as a pioneer in the sport, he understood that we was leading by example. In deciding how to best honor his life and his life's work, it is important to consider what he worked for.
Hawraz wanted to make climbing safe. Climbing is an inherently dangerous sport and each year climbers in every country experience accidents; both amateurs and professionals. The reality is that in just four years, from 2014 to 2018, the number of people climbing in Iraq's mountains soared from around 100 total per year, to over 2,000 per month. Already, under Hawraz Destey Lutka has become a de facto volunteer mountain rescue team with numerous successful rescues. People are climbing in the mountains in larger numbers than ever before, and they are uneducated and unprepared. The reality is that people will continue to climb no matter what, and they still have practically no options to learn how to be safe.
For this reason, it is all the more important to carry out Hawraz' legacy with a school in his honor. The First Climbing School in Iraq will become a place where students can learn how to climb safely and responsibly, avoid accidents, and most importantly, know how to help if there is an injury. This is exactly what Hawraz Raza wanted, and his spirit will continue to live in all of Iraq's future climbers.
---
Please visit the project that Hawraz worked with us on
and consider making a donation.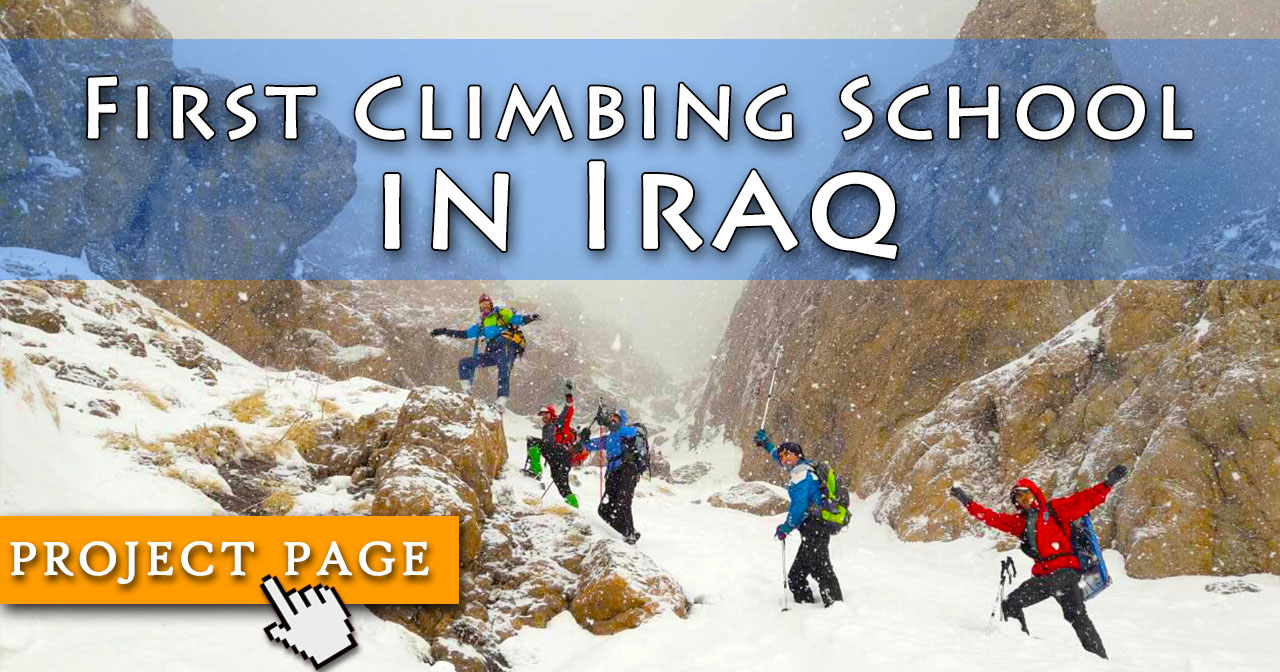 It was his dream, now it is our goal.
---