If you haven't heard, we're establishing a climbing school in Sulaymaniyah, Iraq. To our knowledge, this will be the first climbing school in the country and will open up the mountains as a way to the world to a people who have always seen them as a barrier. Watch the video and learn more at our Iraq Climbing School Page!
We need your help: We need to create a list of materials to construct a climbing wall on the property below.
This post is the beginning of my journey to learn how to construct a wall, then prove my worth when we arrive in Sulaymaniyah later this year. Because of my admitted inexperience, I would like to invite you to help us figure out what design will work best.
First, let's talk about the challenges.
Leveling the Ground


As you can see, the ground is not 100% level. Therefore, we need to consider that wall construction would include creating a level foundation that can support the wall when it's windy.

Extreme Temperatures
The temperatures in Sulaymaniyah range from freezing

0°C/32°F

to dangerously hot

40°C / 105°F

. This means that a traditional wall would not see use in the colder months and as temperatures grow, it would pose a danger to climbers with scalding holds. Ideally, we would like to create a solution that optimizes use so that students an use the wall throughout the year.
Access to Materials


Another thing we have to consider is the materials the wall will be constructed out of, based on those available locally. That said, wood such as 2x4s, plywood, etc. is available and can be purchased at a reasonable cost to set up the base. For connections, screws, bolts, etc. are available; however, technical pieces such as wall anchors, bolt hangers, etc. are not. These pieces will need to be purchased ahead of time and brought into the country.
Second, let's consider the fundamentals:
Pads – I know can be created from shredded old car tires
Sun protection – can be created with a roof – can fold in case there is strong winds with a simple pulley system that folds out "wings"
Holds – it looks like there is a number of options from rock to wood to resin
I've already got the rope and we're working on sourcing other gear like harnesses, belay devices, etc. If you would like to donate money or new gear, please check the full list here or donate at the link below.
Right now I'm doing my own research and a quick google search brought up the following articles. However, You can't build a plane just by reading some books, so I am interested in speaking to anyone who has experience constructing walls. It is critical for us to create a realistic estimate for materials costs so that we can have them ready when our team arrives on location to complete construction.
Articles I'm reading:
Initial Vision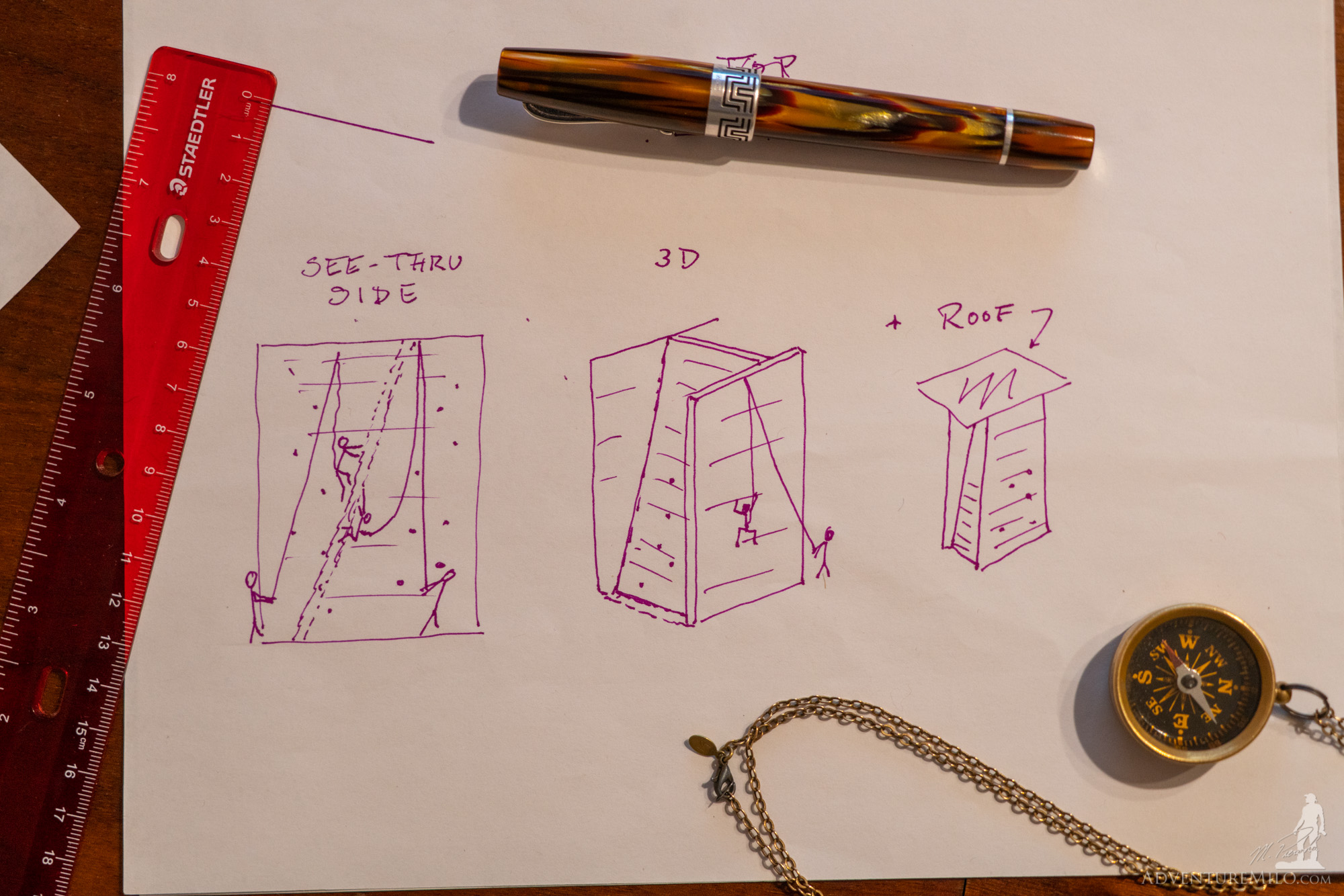 To address the points I made above, I wanted to give a stab at my initial solutions and see how they evolve over time:
Level Ground
Excavate a level ground, pour concrete platform with recessed and drained area for pads, secure supporting pillars.


Question: how wide must this be, how deep, and what is an appropriate method of installing supporting pillars

Extreme Temperatures
HOT:

Build a wall like a lean-to facing away from the sun's path; north if I'm not mistaken. Basically three sides of a cube that would cast a shadow on the holds and prevent the sun from frying any hands that touch them. In addition, construct a roof on top that extends just enough to provide shade for students.


COLD:

Instead of abandoning the wall during the winter months, why not install wooden holds on the outside of the wall that can be used with dry tools. This would open an entire discipline of climbing, and the holds can be made of wood so that they can be replaced easily.

Access to Materials


As I mentioned above in point 4, the construction of holds can be a class that students start right now, like tomorrow. This means that in the time between now and when we build the wall, the community can participate in creating parts of the wall that will go up with the first build. It would create a source of holds that can even grow into something else, and teach students how to maintain their own resource.

Bonus!
Because we can only have so many kids on the wall at the same time, it makes sense to construct a small bouldering wall on the side. This would mean that students can practice while they wait, or entirely different skills can be taught.


In addition, with so many faces, this creates the opportunity to create a dedicated dry tooling section to minimize wear and tare and provide diversity.
---
So, thoughts? Comments?
Please shoot an email to

[email protected]

and let's make this thing a reality.
Thanks and if you would like to help but don't know how to build a wall, please feel free to donate at the link below!

---