Step through your screen and join me on the summit of Mt. Rainier. In the video below, click and drag the screen to "look around" as we reach the top of Disappointment Cleaver with the sun just cresting over the horizon behind us. And if you have VR Goggles, boy are you in for a treat!
The experience above was not easy, and not just because we were climbing a mountain. After several years of doing everything I possibly could to reach places like Mt. Rainier, I was invited to Seattle, WA by Hilleberg the Tentmaker to demonstrate how to work with 360 video and photo. They paid for my ticket, and I immediately requested an extension. I didn't have a way to get to the mountain, I didn't have enough money to pay for a professional guide, and I didn't even know what to expect on the climb as I had never been. But, whether it is sadistic or tenacious, there was an energy inside of me that would not let this opportunity pass. Read about the experience here.
Tommy Caldwell learns about our Iraq Mountaineering School!
Next up, I have the huge honor of expressing gratitude to Tommy Caldwell, professional climber and partner to Kevin Jorgenson with whom he made history climbing Yosemite's El Capitan. Tommy is the co-star in the Red Bull Media feature film Dawn Wall, the first film to officially screen on location where we are establishing our Iraq Mountaineering and Climbing School.
Tommy was speechless when I described our initiative to establish the first ever public climbing/mountaineering program in the country of Iraq. Just seconds before filming, I let him know that his film was the first to be screened in the Iraqi community center to a completely full house! For the first time, a generation of Iraqi children is exposed to what humans have achieved in the mountains. I described to him the impressions of children and adults alike, and the hunger that is present to learn about and discover their mountains in the Kurdistan region. Watch the video below to learn about our project:
It is truly incredible just what is possible when you put your full weight behind it. There is an entire country whose history and culture is about to change as they begin to view the mountains that historically confined them, instead as a pathway to the world and beyond.
40% DISCOUNT from YETI
In other news, YETI – the company that popularized the previously nerdy camp/beach cooler, wanted to help our mission and passed us a code to help with donations! So, until Monday, February 18, 2019 – if you donate $10 or more, you will get a 40% discount code from us that you can use towards any purchase from YETI!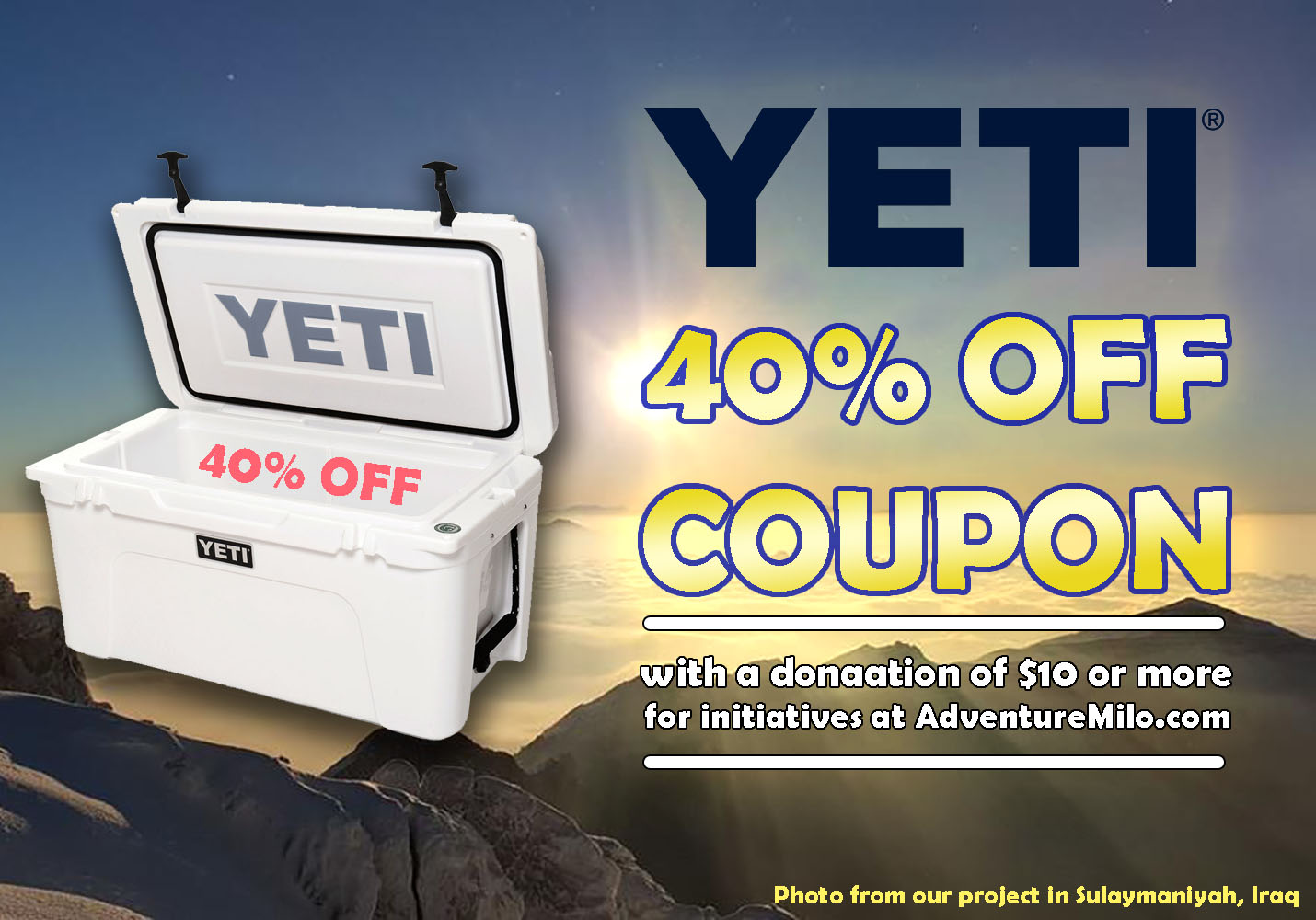 ---

Stay tuned for more information by signing up for the newsletter, and feel free to reach out with any questions by emailing contact@AdventureMilo.com!